The Smoke 'N Fire Enquirer Is Sponsored by:
Be sure to drop by and see our GREAT NEW PRODUCTS FOR 2008!
---
Looking for a
Real Deal?
Check out our:


Close Out Items
---
---
---
In each issue of the Smoke 'N Fire Enquirer we offer you unique tidbits on all aspects of outdoor cooking. You would have to search high 'n low to collect the unique information we offer - - - all for FREE! Keep on smoking!
By supporting The Barbecue Store in your purchases we can offer you more great techniques to cook by.

---
---

Smoke Generators for wonderful smoky meats
---
---

Old Smokey Electric Smoker Has Been Out Of Stock, But Is Available Once Again. They are Being Shipped Now
---
---
---
---
Propane Gas Gauges
---

Steven Raichlen has all of the products for great grilling!
---
SAVE MONEY!!!
Check our closeout Items for a really great deal


SAVE MONEY!!!
---
---

Smokin' Tex PRO Series Electric Smokers
---
Hi %CUST_1%. Summer's moving along smoothly and the days are hot and long, just right for barbecue season.
Our summer has been quite busy with weddings, parties and some nice summer afternoons out by the pit cooking some delicious hamburgers, dogs, ribs, links, chickens and some really great pork butts. It is sorta what summer is all about.

When's the last time you invited friends over for some really great barbecue? Cooking is just half of the fun, the other half is enjoying it with people you really like and care about.
Before school resumes, vacations end and you have to return to full time grind, make opportunities to enjoy your barbecue pit or grill to the max. ..... Promise?
Enjoy!
---
Stay Tuned: We're in the process of archiving all previous editions of the Smoke 'N Fire Enquirer on the web site very soon. This will be exceptional and valuable information for your cooking experience. We hope to have that up and going in the next few days. Click Here to find out when they will become available.
---
Hot Topics for Outdoor Cooking
Most folks like tips on the best way to do this or that and maybe even want to learn a technique or two in the process. In this issue of The Smoke 'N Fire Enquirer, we will discuss 3 thoughts and ideas that may interest most of our readers:
Keeping Chicken Moist: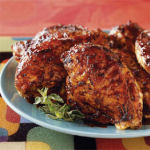 There's chicken and then there's chicken. What we're referring to is the white meat vs. the dark meat. If you are worried about keeping the chicken moist, you are most likely working with the breast meat. This meat is mostly protein which, by definition, is lacking in fat which is essential for keeping meat moist. A couple of ways to help keep the breast meat moist and tender would be:
Use a marinade which is heavy in cooking oils.
Baste with butter or olive oil while cooking.
Don't overcook - use a meat thermometer.
Allow the meat to "rest" before slicing/serving.
Use tongs and not meat hooks to turn the meat.
Side Note: Most often, there is less concern about dark meat in poultry which has more inherent fats interspersed in the meat.
Salmonella:
Salmonella is one of the most common intestinal infections in the United States and one of the most controllable ones - when it comes to meat. We've all heard about the recent bout of salmonella in raw tomatoes where thousands of people have become sick and now the Jalapeno's and Serrano peppers out of Mexico are stirring up new worries. Even cilantro, and onions were suspect at one time. As of August 1st, the first lawsuit has been initiated against Wal-Mart over the Jalapeno.
We all knew chicken and fish are subject to having salmonella, but did you realize that upwards of 75 PERCENT of the chickens sold in the US are contaminated with salmonella? When cooking meats, it is quite easy to control.
Always cook chicken to at least 150° to 160°. Some recommend up to 170° internal temperature. Use a meat thermometer
Do not cross-contaminate when preparing foods on countertops or cutting boards. Always wash hands and cooking surfaces thoroughly.
After marinating your meat, boil the marinade before using it as a basting sauce on meats on the grill.
Wash fruits and veggies thoroughly.
Finishing Sauces: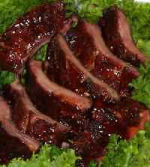 First, let's define. A finishing sauce is quite often a barbecue sauce - perhaps thinned a little with apple or orange juice or other type of flavoring. Once the meat is complete, the temperature in the pit is beginning to die down and there is some quiet time before serving, a thin layer of sweeter barbecue sauce is applied to both sides of the meat. This finishing sauce helps to preserve the moisture and flavor in the meat and makes for a great presentation at the table.
Do not apply too early or it will burn because of the tomatoes and/or sugars in the sauce.
Do not apply too heavily or you will "undo" all the time and effort you have put in to barbecuing the meat all day long.
Do allow it to sit in the pit for 20-30 minutes to let it become "tacky" to the touch.
Certified judges find most BBQ competition teams use this method prior to turning in their entry. We also know of some that do not, so play with it and see what works for you.
That's it for this issue of the Smoke 'N Fire Enquirer and we hope you've learned something or have been moved to try something new the next time you raise the lid to your pit or grill. Remember to have fun and "play with your food" to experience something new, interesting and flavorful. Until next issue, keep on Smokin'!
For more great tips, Click Here
Enjoy The Summer!
Top Shelf Products @ The Barbecue Store
Sweet-Meat, Barbecue Ribs


Most folks just love gently, slow smoked barbecue ribs off a great barbecue pit. We're no different, so here is a great recipe for those special occasions where taste is much more important than time.
Enjoy.
Let's begin by collecting the following ingredients:

Babyback Ribs:
2 slabs trimmed with membrane removed

Mustard Rub:

1/4 cup yellow mustard
1/4 cup dark brown sugar
2 Tbs maple syrup
2 Tbs apple juice

Barbecue Rub:
1/2 cup brown sugar
2 Tbs garlic salt
2 Tbs onion salt
2 Tbs fresh ground black pepper
1 1/2 Tbs kosher Salt
1 tsp ground dry basil
1 tsp ground dry rosemary
1/2 tsp ground dry thyme

Combine the mustard rub ingredients thoroughly in a glass, plastic or stainless steel mixing bowl.

Next combine the barbecue rub ingredients in a similar bowl and also mix thoroughly.

When you are ready, coat the ribs [both sides] with the mustard rub. It should not be too heavy but thoroughly coated. Next, sprinkle or rub the barbecue rub into the meat. It should cover the meat thoroughly. Remember, when cooking for long periods of time, the spices become milder and more mellow - so you can use more than you might think.

When sitting down at dinner please don't cover the ribs in barbecue sauce...it will destroy all the work you've done!

Makes enough for 2 slabs of ribs.

Enjoy.

---

Old Smokey Contest Winner
Each newsletter we give away one heck of a grill to one of our lucky readers. By far, the Old Smokey Grill is our largest selling portable charcoal grill because of its durability and ability to produce great tasting food. There is only one winner each month! The winner of this month's Old Smokey Grill - #14 is:

Ken Gull

Hey Ken, please send us the email address used when you signed up for the Smoke 'n Fire Enquirer and we'll validate your address. Congratulations! For everyone else, we'll have a new contest next month and will be drawing from the same list you are on!

---

Are you receiving The Barbecue Store Newsletter?

If you're interested in discovering the newest innovations in outdoor cooking tools, and equipment, you'll love

The Barbecue Store Newsletter

. Each month we announce what's new in outdoor cooking gear as well as offer over 30 products that are on sale. A lot of the time, we have a store-wide sale in addition to the 30 sale items. But you'll only get the "skinny" on the new products by signing up for the newsletter.

SIGN UP TODAY!


Click Here to request free catalog from Traeger Wood Pellet Grills. Learn more about the benefits of using a pellet grill.
Why Cook with Traeger?

TASTE - SMOKER - SAFETY - AUTO-START SYSTEM - VERSATILITY - HEALTHIER COOKING

---

If you are a manufacturer and would like to showcase your product to our tens of thousands of weekly viewers, let us know!
Charlie McMurrey, The Smoke 'N Fire Enquirer
11220 S. Hwy 6, Sugar Land, TX, 77478, USA
Tell a friend to subscribe to this newsletter on-line



Copyright ©
2008, Nottingham Resources, Inc. All rights reserved

UNSUBSCRIBE LINK: Unsubscribe Here
ADD,MODIFY, CHANGE SUBSCRIPTION: : Change Here