Wild Game Cookoff

---

Gene Mann's Wild Game Cookoff
---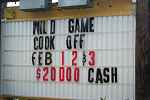 For many years, Gene Mann of Houston TX, has hosted the Gene Mann's Wild Game Cookoff at a popular hot spot in Houston TX. No different this year, the contest was held head Sam's boat, Richmond in Houston TX. They were gracious hosts and the contest consumed their entire weekend!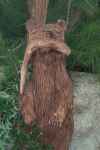 The day before the actual contest is a great time to wander around the site meeting the team members, visiting with head chefs and taking a look at the both the cooking equipment and the tent layout for the presentation.

This year they had teams from Candelari's Sausage Co., Eatzie's Restaurant, the Sierra Grill, Rainbow Lodge Restaurant, and Pappasito's Cantina. Each of the teams were gracious and friendly. If you took the time to visit with them, they would happily discuss their plans to wine and dine the judges the next day.

This contest is far different than most other barbecue contest held around the nation in that the entries must be prepared from wild game. Wild game can be boar, elk, venison, quail, pheasant, mallard, snapping turtle or any other non-domestic animal.

This year the contest was a little different in that the prize money totaled $10,000. First-place received $5,000, second-place received $3,000 and third-place received $2,000. There were a total of 15 teams in the Wild Game Contest and the head cook of most every team was a professional chef striving to beat the others. As with most contests, each team had anywhere from six to a dozen team members assisting in the process.

There were a total of eight judges (and I was lucky enough to be one of them) who judged each entree. At the end of this page we offer you a snapshot of each entree as well as a description of what they presented.

We started at noon at a nearby parking lot and all of the judges climbed into antique limousines from the 1940's. We were led by approximately 30 Harley-Davidson's and were driven to Sam's Boat on Richmond Avenue. Once we reached the site of the cookoff, we were greeted by the Houston Shootist Club from Tomball Texas.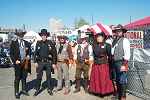 They were dressed period costumes and carried real weapons from the 1800's. When the Shootists are not escorting barbecue judges around contests, quite often you can be they can be found at the target range practicing with her weapons. We really felt protected!

This was not like judging at any other contest. All judging was done in the contestant's tents where everything was fully visible by the contestants. We were allowed to ask any questions to learn more about how the food was prepared. In order to enhance the mood for which we were ingesting their food, one team gave each judge a professional back rub! In addition to judging flavor and texture, we judged appearance and team showmanship. All of these figured into the totals for each team's points.

If to give the idea of the sample menu, the first team was Farner's Farmers. Besides the overall presentation which consisted of a floor show with high kicking women, live singers, duck decoy gifts and the duck calling lessons, the menu began with Great Goose Vodka. After this, we were offered Wood Grilled Wild Boar Chop with White Corn Tamale stuffed with Green Olive, Green Beans, and Potato served with Mango Habanero Sauce. The wine was a 1998 Black Opal Cabernet Sauvignon. Heavenly!
Another team, the Blowout Brothers, offered us Elk Tenderloin in a Raspberry Wine Sauce with Jalapeno Lime Sauce. The overall winners for the 2001 Gene Mann's Wild Game Cookoff contest was Michaeline's Restaurant and Catering, by chef John A. Salazar. Their restaurant is located at 1512 West Alabama in Houston TX. Here is what they cooked!
Their first course was Avocado Duck Confit Ensalada with Red Pepper Coulis. This was followed by a second course of Farm Raised Snapping Rurtle Soup. The third course was a Filet of Bison with Wild Game Reduction Sauce, Pheasant Confit Spring Rolls and Black Buck Antelope Dumplings. This meal was spectacular in both its presentation and taste.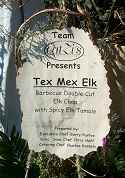 At their tent, each judge was met at the front entrance by 4 marines brandishing sabres overhead. We then entered the tent and were met with two additional marines who stood guard inside the tent. I guess security was high for the event! Each judge had their own server to assist in the presentation of each course. John explained that he had to jump through hoops in order to obtain the 10 oz. fillets bison. The filets were exquisite in their tenderness and flavor. This is truly a meal fit for royalty!
If you ever have the opportunity, I was strongly suggests taking the time to come out to this contest and enjoying the festivities and showmanship of a truly outstanding Wild West, Wild Game cookoff.
As promised, the following are the entrees which were presented for judging.
Farner's Farmers
Wood Grilled Wild Boar Chop With a mild Habanero Sauce
Candelari's Sausage
Mesquite Grilled Wild Boar Tenderloin with an appetizer of Mallard and Teal duck wrapped in Pineapple Slices and Bacon
Michaeline's Restaurant
Filet of bison with wild game Reduction Sauce, Snapping Turtle Soup and Avocado Duck Confit Ensalada
Cook It Wild
Fresh Pheasant with a Wild Teal Sauce, containing Pecans and Cranberries
Eatzi's Restaurant
Grilled TexMex Elk with Spicy Elk Chili Tamales and Texas Caviare
Good ole Boys
Seafood and Andouille Sausage Stuffed Wild Boar Tenderloin and Green Onion Gravy
Pickled Livers
Wild Elk Boar, Venison and New Potatoes with Merlot Reduction Sauce
Blowout Brothers
Elk Tenderloin in a Raspberry Wine Sauce with Shrimp
Varmint Brothers
Hickory Smoked Quail with Wild Rice and Young Tender Cactus
Road Kill
Grilled Morning Dove in a Bread Bowl, with New Mexico Peppers and Big Jim's Pablano Chilies
Longhorn Desperados
Rabbit (from Scotland) Stew, Buffalo Tenderloin, with Asparagus Lobster Bisque.
Serra Grill
Grilled Quail (twice marinated and diced) Pears Compote with the main course being Prime Rib of Buffalo covered with a demi-glaze
House of Fly
American Bison Caribou Style with Pepper Corn Wine Sauce
Rainbow Lodge
Wild Boar Chop with Molasses Whiskey Cracked Pepper Sauce
ScrapDaddy.com
Venison Sausage with Moose Tenderloin