Comments:
Many of you will remember The Summer of 1958 - and if you don't, you should! Oh, was that great! It was then that "Witch Doctor" by David Seville arrived and we were all looking for love. The chant to get that lovin' feelin' was: Ooo eee, ooo ah ah ting tang. Walla walla, bing bang. Also that year was "Purple People Eater" by Sheb Wooley, but that's another story.... This recipe will get the juices stirring in you with its great tangy twang. Give it a try!
Let's get started... Begin by collecting the following:
12 oz can of tomato paste

1 cup of white vinegar

1/2 cup of apple juice

1/2 cup minced onions

1/2 cup of prepared mustard

1/3 cup dark brown sugar

1/3 cup of Worcestershire sauce

1 Tbs. butter

3 tsp black pepper

3 cloves garlic, minced

1 tsp salt

1/2 tsp cayenne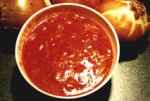 Preparation is quite easy one you have all the ingredients. Simply combine everything in a glass, steel or coated saucepan and heat to a boil while stirring constantly since the tomato paste and sugar will burn easily. Reduce heat and simmer for 15 minutes. Store in the refrigerator and use over the next few days. Once the word is out, it won't last any longer than that!
Enjoy!