Spiced Up Salmon
Comments:
Anyone can broil up some salmon, however it really tastes much better cooked on the grill. This great recipe will put some zing into your dinner. Tried, true and really, really good.
2 Tbs smoked paprika (or what you may have)
2 tsp brown sugar
1 tsp kosher salt
1 tsp fresh ground pepper
1/2 tsp ground ginger
1/2 tsp ground cardamom
1/2 tsp ground cumin
1/4 tsp ground cloves
1/4 ground cinnamon
1/4 tsp cayenne pepper

4 approximately 6-8 ounce salmon filets
Olive oil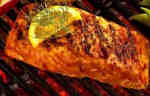 Thoroughly combine all the above ingredients in a stainless steel or glass bowl. After removing any bones from the salmon, pat dry. Using a pastry brush, coat the bottom of the salmon (skin side) with a light coat of olive oil. Turn over and likewise do the top of the salmon (meat side) with the oil. Rub the combined seasonings on the top of the salmon evenly.
Go fire up your grill and get it thoroughly warmed up. When warm/hot, place the salmon on the grate with the skin side down. Cover and allow to cook, avoiding flare-ups. It will be ready when the salmon flakes with a fork.
Enjoy!