Smoky's Pork Loin
Comments:
Pork appreciates garlic and onion, favors sage, thyme and bay and even joins with sweeter spices such as cinnamon and cloves. It is so flavor friendly that it is hard to mess up unless it overcooked or over seasoned.
One of my favorites, that requires very little time is Roast Pork Loin Aw Juice (that is Southern for au jus).
Contributed by:
Smoky Hale
Trim up a fresh pork loin, removing all the fat and silverskin. (Rub the fat on your grill, season your cast iron skillets, render it down for lard, toss it to your dog or use it to help the fire get started.)
Fire up the grill for roasting - 350°. Rub it well with a mixture of:
1 fresh pork loin

1 Tbs. Salt

2 tsp. garlic powder

2 tsp. onion powder

1 tsp. ground mustard

1 tsp. ground bay

1 tsp. ground thyme

(Sage, ground red pepper and celery seed are optional)

1/2 tsp. fresh ground black pepper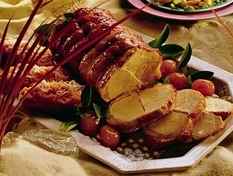 Mix well and apply as if it were salt. Cover all surfaces. Place on a rack over a shallow pan with 1/4" of water to keep the first drippings from burning. Pop into the hot grill and close the lid. It will take around 1 hour, depending upon the temperature and the size of the roast.
Remove from grill to a platter or cutting board and let the juices set for about ten minutes while you deglaze the pan with more water or wine. Correct the seasonings and reserve as Aw Juice. (After you try it you may want to call it "Awesome Juice.") Slice the loin across in thin (1/8") slice to a warm plate and pour the warm aw juice over it. Try to save some if you can.
Left overs, if there are any, make great sandwich meat. Keep it tightly enclose so that it will not dry out.
Enjoy!
Smoky