Comments:
Teriyaki is a great complement to the smoked flavor of salmon, king, or just about any seafood. It is also great on pork, chicken and veggies. This marinade is excellent on just about any type of seafood you desire.
Let's get started... Begin by collecting the following:
1 cup light soy sauce

1/2 cup dark brown sugar

3 garlic cloves, minced

1 Tbs fresh ginger, grated

1 tsp lemon juice

1 tsp fresh ground black pepper

1 tbs salt

Your choice of seafood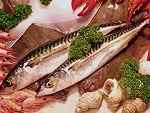 Combine all the ingredients in a plastic or glass container and mix thoroughly. Allow the flavors to comingle and meld together for a wonderful glaze. While grilling the seafood, add just a little to the fish before grilling. As the fish is finished, apply generously to taste and serve immediately. Please note that this is a marinade and finishing sauce meaning that most is place on the poultry just before taking it off the grill. If cooked directly over the heat, it will burn because of the sugars so be careful. Enjoy!