Looking for that far away flavor? Then step across the pond for a rich and flavorful taste. This recipe is great on chicken, turkey and cornish hens.
This recipe is best for whole chicken or quarters. That gives you time to baste often in order to lock in these wonderful flavors. Combine the following ingredients:

2 sticks of butter (NOT margarine)

2 Tbs soy sauce

2 garlic cloves - minced

1 Tbs dijon mustard

1 Tbs dried parsley

1/2 tsp tarragon

1 tsp fresh ground black pepper

1/2 salt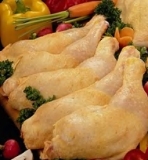 Mix all of the ingredients in a pan and heat over medium heat. Simmer for 15-20 minutes. Fire up the grill and cook over indirect heat until the internal temperature of the chicken (in the thickest part) reaches 160°. While warm, use the baste every 15 minute while chicken is cooking. Enjoy!