Poultry Garlic Herb Rub
Comments
Our favorite "poultry" are WINGS! The are simple, easy, tender and moist. AND using this recipe, they are extremely tasty! Better make plenty, it goes fast no matter what type you cook.
Collect the following ingredients:

1/2 cup sugar

2 Tbs garlic salt

2 Tbs salt - regular

2 Tbs paprika

1 Tbs chili powder

1 Tbs freshly ground black pepper

1 tsp ginger - ground

1/2 tsp allspice - ground

1/2 cup Kraft Zesty Italian dressing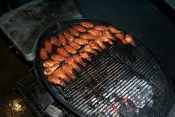 Prepare your grill or barbecue pit for indirect cooking (coals on one side of the pit and the meat on the other side). Combine all the ingredients (except the chicken wings) in a glass or plastic bowl. The bowl should be large enough to include the chicken wings. Blend ingredients well. Add the chicken wings and coat evenly with the blended ingredients. Cook at 230° until done. About 2 hours. Better make plenty ... this stuff goes fast!