Mexican Style Grilled Shrimp
Comments:
Most everyone enjoys Mexican food, particularly on the weekends when we can relax and enjoy friends and family without having to worry about getting up early to go to work in the morning. If you are looking for that great Mexican flavor and the wonderful flavors of shrimp, then this recipe will get you down the road to a really great meal.
2 pounds unpeeled, large fresh shrimp
20 skewers
1/2 cup firmly packed dark brown sugar
6 garlic cloves, pressed
1 canned chipotle pepper in adobo sauce, minced
1 Tbs of the remaining adobo sauce
2 Tbs rum
2 Tbs water
1/4 tsp salt
1 Tbs Worcestershire sauce
1 Tbs olive oil
First, let's get some fresh shrimp and then peel them leaving the tails on. While pealing them, we have found it easy to devein them at that time.
Cover and set aside in the refrigerator.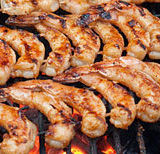 Next, place the brown sugar in a small saucepan over low heat cook until melted. Next add the garlic, chipotle pepper, adobo sauce, rum, water, salt, oil and Worcestershire sauce. Cook a few minutes and remove from heat and allow to cool. Add shrimp to the sauce once cooled and allow to sit for 15 minutes.
We're getting close: Thread shrimp onto skewer.
Grill the shrimp over medium heat for 4 to 6 minutes not letting them burn. (Shrimp cook very quickly!), turning once. Serve warm.