Ken's Magnificent
Beer Butt Turkey
Comments:
Ken Barger once barbecued a 14 lb turkey - similar to beer-in-the-butt chicken. The white meat was very juicy and everyone said it was the best they have ever eaten. Since then, Ken has cooked 12 more turkeys with the same fantastic results. Enjoy!
Contributed by:
Ken Barger
A grilled/smoked turkey is juicer and has a far better flavor than an oven roasted turkey. The turkey will be more tender and juicy than you thought possible. The recommended size for bbq is 12-14 pounds. The turkey must fit under the lid with about 1-inch space between top of turkey and lid.
First, collect the following ingredients:
Basting Sauce:

½ cup salad oil

½ cup lemon juice

½ cup wine vinegar

¼ cup soy sauce
Combine all ingredients and add herbs to suit yourself. Keep in covered jar in refrigerator.
Glaze:

¾ cup maple syrup

½ cup dry white wine

½ cup Dijon mustard

¼ stick butter
Combine all ingredients in saucepan over medium heat, whisk until smooth. After cooling, keep in covered jar in refrigerator.
Beer Sauce:

2 cans beer (I use Old Milwaukee)

2 med. onion, chopped

6 cloves garlic, minced
Preparing the Turkey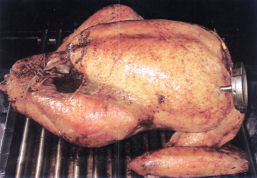 Most recipes on bbq´d turkey first start out giving instructions for brining. Store bought turkeys such as Butterball are brined.
After turkey is thawed, remove giblets and neck from the body. Rinse turkey in fresh water and pat dry with paper towels. Turn the wings back and return legs to tucked position if untucked. Do Not Stuff. Lightly oil the whole turkey inside and out (olive oil recommended), and season. I use Badia Complete Seasoning. Using the string lifter provided, secure turkey and place on a flat pan. Cover with saran wrap and refrigerate overnight.
Cooking
Before turning on the grill, lift grates and place a drip pan (±10½W x 13L x 2½H inches) at the center and directly on the flavorizar bars, ceramic tile or rock. Pour 2 cans of beer, chopped onions and minced garlic into drip pan and stir. Replace cooking grates.
Prepare grill for indirect cooking according to owner's guide for grill. Turn temperature down to medium or to a setting that maintains approximately 350ºF.
Position smoke pan at one end and fill with hickory or apple chips. When finished smoking refill with chips. Smoke for about 1 hour.
Insert thermometer into thickest part of breast. Position turkey on grill above the drip pan and close the lid.
Every 30 minutes brush turkey with basting sauce. When the thermometer is around 150°, baste with glaze mixture every 10 minutes until temperature reaches 160°F. Remove turkey from the grill and let stand for 15 minutes before carving. The temperature will rise to about 165°F. Enjoy!