Grilled Southwestern Chicken Burgers
Comments:
If you're looking for a great spicy burger for the fowl friends in your circle. When you toss in those wonderful southwestern flavors of jalapeno pepper, salsa, cilantro and jack cheese, you have a truly wonderful meal ahead of you. Makes you want to say "Olé!" Enjoy!
First, collect the following ingredients:
Basting Sauce:

1 pound ground chicken/turkey

1/2 cup Monterey jack cheese

1/4 cup of salsa

1/4 cup finely chopped cilantro

1/4 cup chopped onions

1 jalapeno pepper, finely chopped

1 Tsp ground cumin

1 tsp garlic salt

1 tsp freshly ground black pepper

Buns, tomatoes, lettuce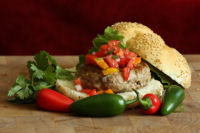 You should probably invite some of your friends over for a great afternoon meal out in the backyard. If so, then we suggest doubling the recipe. Combine everything except the buns, tomatoes, lettuce and mix into 4 paddies. Grill over direct heat for 5-10 minutes...until done. Place burgers on buns and top with the tomatoes and lettuce. Enjoy!