Comments:
Want to impress your friends and still have time to enjoy your favorite beverage? Then this is the steak rub just for you! Goes on easy, goes down delicious!
Make this recipe any size you want, just adjust the portions equally. Combine the following ingredients in a plastic or glass bowl:
1/3rd portion of Lemon Pepper

1/3rd portion of Garlic Powder

1/3rd portion of Meat Tenderizer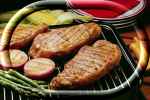 Mix all the ingredients thoroughly. Sprinkle on your favorite steak and allow it to sit for 1-3 hours before grilling. Grill normally and server warm.
Enjoy!