Crazy Cajun Catfish
Comments:
Them crazy Cajuns really get around. To fix up some hearty and spicy catfish is like falling off the stump and into the swamp for these guys. This recipe will certainly have you falling off your chair! Enjoy.
Contributed by:
Smoky
Try this one on catfish!


1 Tbs salt

2 tsp onion powder

2 tsp garlic powder

1 tsp ground celery seed

1 tsp ground thyme

1 tsp ground bay leaf

1 tsp hot Hungarian paprika

1/2 tsp ground cayenne pepper

1/2 tsp fresh ground black pepper

1/2 tsp ground mustard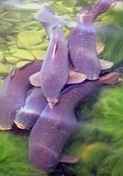 To use, mix well and sprinkle on the fish as you would salt. You can adjust the cayenne to suit your mouth. Enjoy!