Live a little. This marinade will warm the soul and set passions running high on those cold romantic nights before the fireplace! So, what are you waiting for???
Begin with several thick steaks - 1" to 1 1/4" thick. Then mix the following ingredients:

1/2 cup bourbon

1/2 cup light oil (light olive/canola/etc.)

3 Tbs Worcestershire sauce

1 Tbs Teriyaki sauce

1 Tbs Soy sauce

2 whole garlic cloves - crushed

1 Tbs fresh cracked black pepper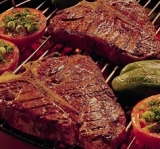 Place small portion of mixture in a glass pan. Next, place steaks in the pan with the sauce. Pour the balance of the sauce over the steaks. Place covered in the refrigerator. Turn every 30 minutes for 3-4 hours. Fire up the grill and cook over hot coals until steaks are done to your liking. Sit down, eat, enjoy!