Big Easy Style Grilled Shrimp
Comments:
Grilled shrimp is ALMOST everyone's favorite meal on the grill. It is easy to season, easy to grill and easy going down. What is there not to like? Sure, larger shrimp is a little more expensive, but if you watch your supermarket sales, they can sometimes be a bargan.
The one thing that is most important in grilling shrimp is not to over cook! See our Proper Temperatures Page.
1 pound extra large shrimp shelled (12-15 count)

1 tsp fresh cracked pepper

1 tsp garlic powder

1/2 tsp cayenne pepper

1/2 tsp thyme

1/2 tsp oregano

1/2 tsp crushed rosemary

1/2 tsp salt

2 Tbs olive oil

Mix the above ingredients with the oil and add shrimp. Toss thoroughly, cover and place in the refrigerator for 1 hour. This lets the seasoning really get into the meat.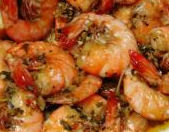 While the fire is getting started, gently thread the shrimp on double skewers. (This keeps the shrimp from twisting on the stick). You may also use two soaked bamboo skewers if they are more handy.
Cook shrimp over the direct heat until done...about 2-3 minutes per side. We have found that if you cook them less on the second side after turning they are not as likely to be overcooked.
Enjoy!