If you are seeking a tried and true, down home, genuine baste for all of your outdoor cooking, then this is your ticket to some really great barbecue and grilling. It's simple and wonderful!
Collect the following:

1 stick of butter

3 cloves of minced garlic

1 tsp fresh ground black pepper

1 tsp salt
Want to jazz it up? Add:
3 Tbs pineapple juice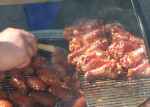 Simmer butter over low/medium heat until completely melted. Add garlic, pepper and salt and continue simmering for about 3-4 minutes. Do not allow the butter to burn. Remove and allow to cool slightly. Add the pineapple juice if you dare and mix thoroughly. Apply to meat just before and while cooking. Baste each time the meat is turned. Have fun!