The Kettle Grill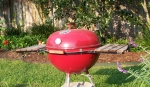 The Number 1 Question Asked By More People:
. . . . . . . . . . . .
When am I supposed
to use the lid on
this darn thing?
. . . . . . . . . . . .
At one time or the other, ...we've all had one ... or ... perhaps we still have one. They are the staple for basic grilling in the back yard. They come in all sizes ... round, oval and (more or less) square. Some have adjustable cooking grates (up and down ... or ... round and round) and others provide for easy access to add new charcoal.
They are made by companies such as Weber as well as many others. In addition to the backyard events, they even used in cook-offs contests around the United States. Their universal appeal is contagious due to their being extremely economical and simple to use. They can last for 5 to 10 years or more if properly taken care of and protected from the elements.
The Backyard Grill
The most popular "BBQ"
But mostly, it's grilling.
The "Kettle Type Grill" is most often located in America's backyard ready to be fired up at a moment's notice. Unfortunately, most people call them "Barbecues" when in fact, they are charcoal grills. The difference is explained in Smoky's Glossary. The term Barbecue is an act of cooking slowly over charcoal or coals. KEY WORD is slowly. Most folks are actually grilling ... cooking quickly over hot (700 deg) coals or charcoal. Cooking time is from 3 minutes for shrimp and fish up to 15 minutes for thick cuts of steak.
This page will expound on the basic features of the "Kettle Grill" whether round, square or oval ... and to then proceed to discuss some of the various techniques for effectively using and managing different types of cooking on the most popular backyard grill.
America's Backyard Grill
123 Backyard Ave.
Anywhere, USA!
Clearly, one of the primary features of the kettle is its size and portability. Besides the backyard, they are commonly used on the beach, at tailgating parties, out in the country, on picnics and just about anywhere a car or truck can be driven. They come in all different shapes and sizes.
The most common type is the round 22 1/2 inch Weber Kettle which comes in black and red. They are quite practical and are easy to use and store. The round offers plenty of room for a large brisket, several pork butts or several chickens depending upon how they are cooked.
When we say "square" we are actually referring to "more or less square" with rounded edges. Some of the makers of these types of grill are _______________. There is very little practical difference in these two types of grills other than shape. Each can be cooked on in a direct (grilling) or indirect (barbecuing) method which we will discuss shortly.
This type unit is a hybrid between the round and the square. Made by the Kingsford group, it has it's own unique features. The primary one being the fact that the cooking area is definitely wider than it is in depth (front to back). This is helpful in doing more practical barbecuing, yet is still a fully functional grill.

Let's talk about some of the features that make this type of grill so simple...and easy to use!
First, these grills are extremely easy to both assemble and disassemble. When purchasing a grill, the
FIRST thing you want to do is to "put the sucker together and fire it up!". Simply done, there are usually only a few screws for handles and legs that must be put together. Otherwise, you should have a completed and ready to go grill in about 15 minutes.
They are also quite easy to disassemble for taking to all of those wonderful places mentioned about so that you can get out of town and relax. After all, isn't that what outdoor cooking is all about?
Next, there is the storage feature. They are small and compact. Easy to place in the garage or shed. They should be covered in some manner because most folks do not clean out the ashes right away and when the ashes become wet, they turn into a caustic lye which does severe harm to grills and barbecue pits.
Low cost is another feature of these grills. They can be had for $29.95 to about $150.00 depending upon the quality (i.e. durability) and features. We'll talk about features shortly ....
Let's face it, these guys are easy to use. What does it have? Three or four legs, an area for the charcoal, a cooking grate and a lid. That's it. Anyone can manage to conquer this mean grilling machine!
Now back to the original question ...
When am I supposed to use the lid?
Use the lid when you are wanting to cook barbecue "low and slow". By placing the heat on one side of the grill and the meat on the other, you can then use the lid to contain the heat in the cooking chamber so as to cook the meat at lower temperatures over longer periods of time.
If you are "grilling" burgers, dogs, chops, fish, steaks, etc., over direct heat, then you should leave the lid off so you can easily turn the meat to prevent burning. Quite simple.