| | |
| --- | --- |
| What's all of this I hear about aluminum foil? | |
We're about 1/2 way through cooking....
Many, many, many, many teams choose to use aluminum foil in the cooking process. Why? Because they are struggling to cook brisket that is both tender and not too smoky. In actually, they end up "steaming/braising" the meat (which will make the meat tender and quite possibly mushy as opposed to barbecuing it. We try to discourage this practice. The primary purpose of the foil is two (2) fold: 1.) to create a barrier between the meat and the smoke and 2.) to steam the meat to make it tender. The irony in all of this is that if the brisket is cooked at low temperatures 210 to 225 degrees for 10 to 12 hours in the ashes/coals we discussed above, the brisket would be tender, flavorful and not too smoky and it would be BARBECUED! Funny, huh? We kid you not......this is the biggest mistake teams [and we would suspect backyard chefs also] make in cooking brisket.
| | |
| --- | --- |
| Now you say, why in the heck should I settle for less than tender brisket when you have just told me how to make mine tender, if I don't cook it too long in the foil? There is a compromise here. | |
It is quite acceptable to wrap under certain conditions and still have your meat barbecued. Listen up. About 7/8ths the way through cooking, or even when you are finished, it is quite acceptable to wrap the meat in foil, IF YOU THEN REMOVE THE MEAT FROM THE HEAT. What we are talking about is to go ahead and wrap the meat in foil and then do one of several things.
Option 1 - Place the wrapped brisket in a "heat retaining container" until time for the judges to come by and pick up the meat or it is time to eat! Ex.: Ice chest, blankets, layers of boxes inside one another, etc.
Option 2 - Replace the meat in the cooker after the heat from the fire has been removed/reduced. Allow the fire to "die out" and just the temperature of the grill itself should keep the meat warm.
It is now time to sit back and enjoy the process with friends, family and cold refreshments. Occasionally check the fire and insure that it is maintaining the proper temperature range and then go back to the friends, family and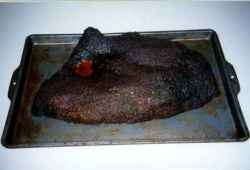 refreshments. As we mentioned above, this portion of the event should last anywhere from 8 to ? hours depending upon the size of the brisket.
We believe, by following these very simple steps, recommendations and suggestions, your brisket will be significantly improved when cooking this difficult cut of meat.
Coming shortly, we will have a complete section on how to slice this difficult cut of meat.
Want more on BRISKET? Check out Smoky's comments on cooking a brisket.
Back to the Championship Technique Section!